This "Final Flight" section is for honoring and remembering those members of the Air Force helicopter family. Our friends will always be remembered as the great persons they were and for the part they played in our Air Force life.
Some may not have been a member of USAF ROTORHEADS however they were friends of members. Had they been given the opportunity they would have been welcomed to the group.
NOTE: Those members of the Air Force helicopter family that were lost during armed conflict are honored on the "Armed Conflict" and "SEA KIA/MIA" pages of the website.

Final Flights on this page are listed in alphabetical order with the
date of thier Final Flight listed below thier name.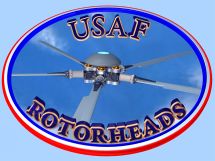 ---
---







Quick, James

"Jim"

(November 27, 2008)

Quillen, Robert I.

(September 06, 1956)

Quinlan, Edward G.

(May 18, 2011)
---
---







Rakip, Russell E.

"Rotor"

(August 5, 2004)

Ramirez, Freddie

(March 09, 1955)

Rash, Jimmy D.

(June 6, 2006)








Ratliff, Adron D.

(March 02, 2015)

Ray, Marlice D.

(March 07, 1959)

Reeder, Dan L.

(September 29, 2013)








Reich, Dave

(July 28, 1982)

Reid, Lawrence A.

(September 13, 1951)

(H-5G, 48-555 - Korea)

Reihman, Daniel R.

(January 15, 1985)

<HH-53C Crash-Hickam AFB>








Reinhard, Kenneth

(August 14, 1987)

Reyes, Fred

(July 20, 2013)

Richards, Willard S.

(May 07, 2001)








Riecke, Richard N.

(November 05, 2006)

Riggs, Ronald F.

(September 11, 1959)

<Crash, Nellis AFB>

Riley, Robert S. "Bob"

(August 13, 2015)








Riney, Robert L.

"Bob" "Bobby"

(June 6, 2008)

Riopel Luke

(December 10, 2011)

Robertson, Dale W.

(August 26, 1959)








Robinson, Robert H.

"Bob" "Robby"

(November 27, 2012)

Rockel, Robert Howard "Bob" "Rocky"

(November 14, 2014)

Rodriguez, Paul

(August 25, 2015)








Rolle, Lawrence W.

(March 12, 1989)

<Crewmember on Pony-12>

Root, James L.

(August 15, 2010)

Rosten, Donald L.

(January 09, 2000)








Rousseau, Lamont E.

"Bud"

(February 10, 2015)

Roy, Robert L.

(February 24, 2014)

Ruane, Sean M.

(January 07, 2014)








Runninger, Robert E.

"Bob"

(February 05, 2015)

Runyon, Richard L.

"Rich"

(May 07, 2015)

Rupp, Frederick D.

(June 11, 1957)

<H-13 Crash, TX.>








Russell, Wayne D.

(October 29, 2007)

Ryan, Richard M.

(Septermber 02, 1969)



---
---







Sagor, David R.

(August 03, 2010)

Saikkonen, Stuart L.

(June 11, 1995)

Samek, Jesse M.

(October 20, 2004)








Sanchez, Joseph "Joe" H.

(Septembeer 18, 2014)

Salem, Harold D. "Hal"

(August 06, 2015)

Sandusky, William A. "Bill"

(October 18, 2014)








Santos, John F. Jr.

(April 28, 1964)

Saunders, Ralph S., Sr.

(December 06, 2002)

Scarff, Jr., James P.

(March 09, 2016)








Schaetzle, Stanley O.

(February 08, 2013)

Schannep, Robert

(November 18, 2008)

Scharping, Stanley H.

(April 27, 2004)








Schatte, Jay S. Jr.

(July 18, 1980)

Schoeck, John R.

(March 2, 2003)

Scholl, Mark

(October 29, 1992)








Schumacher, Glenn R.

(September 10, 2011)

Schuman, Jimmie D. Sr.

(September 18, 2013)

Schwanenberg, Don

(April 22, 2015)








Scott, Charles M.

(January 03, 1957)

Scott, Jackson K., Jr.

(March 17, 2001)

Sealy, Jimmy G.

(August 25, 2012)








Setaro, Richard M.

(October 06, 1994)

Seaman, Richard D.

"Rich"

(March 17, 1976)

<CH-53 Crash, Sembach AB>

Severns, Charles D.

"Chuck"

(February 22, 2007)








Shackleford, Dennis L.

(February 06, 2014)

Sharpe, Theodore

"Ted"

(February 10, 2007)

Shea, William P.

(June 02, 2015)








Sherman, John

(1982)

<HH-53C Crash-Hickam AFB>

Sherow, Ehren Stuart

(May 2, 2007)

Shobert Jr., Edwin Lester

(April 14, 2016)








Shumosky, Thomas M.

(May 12, 2011)

Shoneck, John Reginald

(October 18, 1966)

<HU-16 "Crown Bravo" Loss>

Silva, Theodore D.

(May 07, 1992)








Skeen, Michael W.

"Mike"

(October 17, 1984)

Slattery, John Matthew

"Slats"

(March 6, 2008)

Slaven, William E.

(March 12, 1989)

<Crewmember on Pony-12>








Smallwood, William E.

"Bill"

(December 25, 2015)

Smith, Arden Rick

(October 30, 1991)

Smith, Kendall P.

(January 11, 2012)








Smith, Mark A.

(August 05, 2013)

Smith, Samuel

(March 02, 2013)

Smith, Winifred Jeffries

"Win"

(July 29, 2000)








Smitham, Ronald W.

"Ron"

(May 27, 2013)

Snider, Brian H.

(May 29, 1986)

Solari, James Richard

(December 12, 2011)








Solberg, Harold A.

"Andy"

(September 22, 2015)

Solomon, Edward

(December 07, 1974)

Sorentino, Jerry

(October 22, 1973)








Southworth, Stanley G.

(March 01, 2002)

Sparks, David K.

(December 5, 2006)

Sparks, Glenn C.

(June 9, 2013)








Spencer, Leslie E.

(September 01, 1988)

Spencer, Stewart H.

(April 11, 2016)

Solari, James Richard

(June 9, 2013)








Stanley, Jim

(July 17, 2007)

Stein, John

(March 23, 2003)

Stephens, Martin A.

(July 09, 2015)








Stevens, Edward R.

(February 25, 2012)

Stevens, Jeffery

(August 14, 1987)

Stephenson, Sr., James H.

(December 05, 2012)








Stewart, Adam

(September 03, 1998)

Stewart, Jesse D.

(September 03, 1998)

Stewart, Jesse D.

(September 03, 1998)








Stover, Christopher S.

(January 07, 2014)

Stringer, Harvie Lee

(January 7, 2010)

Sturges, Philip Verne, Jr.

(June 16, 2010)








Sturtevant, Matthew

(September 03, 1998)

Sullivan, Eugene

(July 25, 1958)

Sullivan, Michael F.

(August 11, 1966)








Summerhill, Price S.

(February 10, 2015)

Swindells Jr., Melvin

(August 06, 2012)

Sword, Robert J.

(May 22, 2014)
---
---







Tackas, William

"Bill"

(October 16, 2007)

Tassie, James A. "Jim"

(August 23, 2015)

Tatsch, Stephen R.

(September 30, 2012)








Tauzin, Louis

(December 14, 2012)

Taylor, Archie R.

(February 29, 2012)

Taylor, James Alford

(December 21, 1937-

October 19, 2012)








Taylor, Louis R.

(December 06, 1972)

<KIA>

Teal, John

(March 23, 2003)

Thomas, David William

(December 13, 2012)








Thomas,Donald D.

(March 12, 1989)

<Crewmember on "Pony-12">

Thomas, Jr., William E.

"Bill"

(June 05, 2013)

Thompson, Harold E. "Tommy"

(October 29, 2003)








Thorson, Larry D.

(October 22, 1973)

Thorburn, John Andrew

(January 07, 2010)

Tinsman, John E.

(July 22, 1959)








Torres, Eliud

(March 14, 1989)

<HH-3E Crash-Kadena AB>

Touchette, Bernard L.

"Touch"

(May 7, 2006)

Tovar, Roland N.

(August 09, 2010)








Toy, Harry C.

(March 31, 1993)

Trainer, Maxie L.

"Max"

(March 19, 2007)

Travis, James F.

"Jim"

(January 01, 2012)








Treager, Irwin E.

(January 13, 2015)

Troppman, Charles R.

(March 09, 1955)

Troyer, Carl E.

(Septermber 02, 1969)








Truitt, Grady Miller

(May 30, 2014)





---
---
---
---







Vallimont, Joseph C.

(July 10, 1998)

Vargas, William V.

"Bill"

(February 26, 2011)

Van Der Ploeg, Richard

(December 19, 2008)








Vaughn, Edward Douglas

(August 15, 2002)

Vick, Ralph E.

(April 02, 1995)

Vigare, Lenote M.

"Joe"

(May 20, 2011)








Von Phul, Stephen

(September 13, 1994)

Vriesenga, William P.

(October 19, 2002)



---
---







Waldeck, Robert Stephen

(May 14, 2015)

Waitt, Weymer Hinckley Jr. "Hink"

(1984)

Walkup, Thomas A.

(November 23, 2003)








Walls, Berry R.

(July 27, 1982)

Walt, Robert A.

(September 04, 1980)

Walters, Howard A.

(November 23, 2003)








Warren, William J. "Bill"

(March 01, 2015)

Washington, George A., Jr.

(August 16, 2012)

Waters, Donald J.

"Don"

(September 28, 2009)








Webb, Steven V.

(August 04, 1972)

Webb, Walter E., III

(February 07, 1998)

Weiland Jr. Christy A.

(October 11, 2014)








Weimer, John R. Jr.

(August 13, 2013)

Welborn, Melvin O.

(July 11, 1967)

Welk, Timothy M.

(March 11, 2007)








Wendin, Richard J.

(September 29, 1981)

Werber, William A.

(December 18, 2011)

West, James H.

(September 12, 2014)








Wheat, Rollin T.

(August 11, 1966)

Whitbeck, Dyke H.

(January 09, 1984)

White, Eugene Oscar

"Gene"

(May 01, 2015)








White, Sawyer R.

(January 12, 2014)

Whitesides, Richard L.

(March 26, 1964 MIA)

(March 27, 1965 Declared KIA)

Whitney, Edgar Ray

"Ed"

(February 13, 2015)








Williams, Frank A.

(June 07, 1960)

Williams Sr., Robert W.

"Bob"

(April 24, 2007)

Williams, Walter S. Jr.

(March 28, 1957)








Wilkerson, Desmond R.

(November 28, 1950)

(H-5H, 49-2009 - Korea)

Wilkerson, Ronald J.

(2013)

Wilson, Hernand E.

"Willy" "Gene"

(December 17, 1993)








Wilson, Paul H. D.

(May 05, 1958)

Winslow, Douglas E.

(November 20, 2009)

Withington Jr., Lothrop








Womack, James "Jim"

(March 16, 2011)

Womble, Bernie V.

(March 22, 2007)

Wood, Carl George

(February 02, 2014)








Woodson, Jack G.

(July 13, 2015)

Wood, Wendell B.

(March 22, 2015)

Woodward III, J. H.

"Woody"

(June 28, 2010)








Woolverton, Buel Woodrow

(November 29, 2011)

Wotasik, Justin

(September 03, 1998)

Woten, Donald

(July 05, 2013)








Wright, LeRoy M.

(November 04, 2001)

Wright, Jr., Stanley

(July 28, 1954)

Wurzburg, Jr., George E.

(April 04, 2014)
---
---
---







Yeast, Timothy Alan

(April 08, 2015)

Yestness, Steven Ray

"Bubba"

(December 22, 2009)

Yonteck, Frederick

(May 25, 2009)








Young, Dennis

(February 29,1979)

<HH-53C Crash-Kadena AB>

Young, Gerald O.

(June 6, 1990)

(Medal of Honor recipient / 37th ARRS,

Da Nang HH-3E November 9, 1967)

Young, Kelly F.

(August 19, 2015)








Youngblood, Karl

(September 03, 1998)

York, Glen P.

(May 03, 2014)



---
---







Zdenek, Robert Madison "Bob"

(March 11, 2011)

Zehnder, Herbert R.

(March 4, 2008)

(Col. Zehnder commanded the lead

helicopter on the first non-stop crossing

of the Atlantic by a helicopter/He was

the co-pilot of Banana One which crash landed at Son Tay, Vietnam)

Zerbe, Daniel L.

(August 06, 2011)








Ziegler, John C.

(March 09, 1955)

Zurawski, Frank

(October 06, 1994)





If you would like to have a Air Force helicopter person honored here or would like to pay tribute to one of the above, please send the information to USAF ROTORHEADS