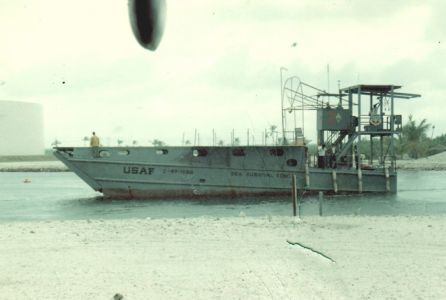 COURTESY OF ART BRAND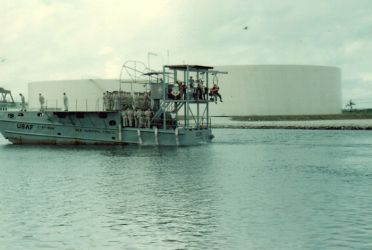 COURTESY OF ART BRAND
The land pickups were performed with the student standing on a small wood platform, which was in several inches of water. They all had on a clean, dry flight suit. If they didn't follow proper procedures getting on the penetrator hoist operator would move them to the edge of the platform and lower them so they got wet. The hoist operators always enjoyed this part of the job.
The Survival School was run by the Air Force and the instructers wore Navy uniforms with Air Force rank insignia.
A modified LST was utilized to parasail students from the LST. Upon reaching a pre-determined altitude the student was released to parasail into Biscayne Bay. They would then put to use their training for landing in the water and get into their one-man raft.
After several students were in the water the H-21 would approach each student. If the student didn't follow proper procedures and get out of the raft, the helicopter would pass by him and go to the next student. If the student didn't follow proper procedure getting on the penetrator, the hoist operator would advise the pilot to move forward. Doing this resulted in dragging the student through the water face down. Lesson Learned? Maybe.
The tower in the below picture was also used for water training.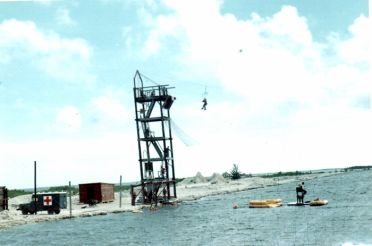 COURTESY OF ART BRAND