"FIRE SUPPRESSION KIT"




A View of an HH-43B Huskie helicopter as a fireman hooks a fire suppression kit to the aircraft.

The helicopter is assigned to Detachment 8, 38th Aerospace Rescue and Recovery Squadron.

CAM RANH BAY AIR FORCE BASE

1/1/1968

Jim Burns thinks it might be HH-43B 58-1859




(COURTESY OF SID NANSON)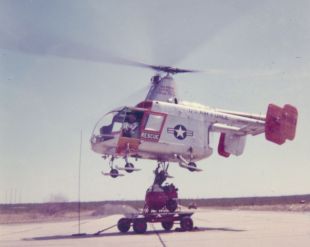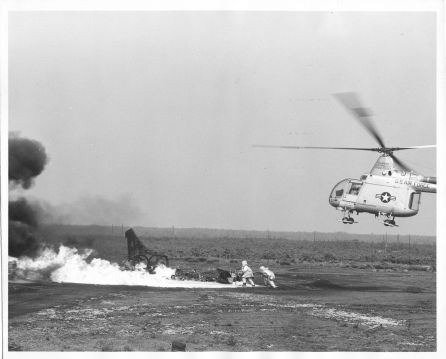 SUFFOLK COUNTY AFB NY COURTESY OF JIM BURNS

A Huskie on rescue alert could be airborne in approximately one minute. It carried two rescuemen/fire-fighters and a fire suppression kit hanging beneath it. It often reached crashed airplanes before ground vehicles arrived. Foam from the kit plus the powerful downwash air from the rotors were used to open a path to trapped crash victims to permit their rescue.
A 1,000-pound kit was developed at Wright-Patterson AFB to provide quick aid in fighting aircraft crash fires. The tank contained 83 gals. of water and foam but when this mixture reached the air at the nozzle, it expanded to more than eight times its volume to produce about 690 gallons of fire-fighting foam. The kit could be picked up from its trailer in a cargo sling by an HH-43 crash-rescue helicopter and could be lifted to the fire site. A heater was mounted on the trailer to prevent the tank contents from freezing when on "ready alert" status at an airbase in cold weather.
There was a soft hose kit and later a hard hose kit, both which were mounted on a USAF MB-1 trailer chassis. The platform for the hard hose kit was apparently different as we have seen two pictures that clearly shows a extended platform on one side and one with the platform on both sides, most likely used by the hook-up man.